Presentation of the Mission Work
Revelation - A Book With 7 Seals ? (346 KB)
Video summary of the services on the first weekend of the month in Krefeld!
---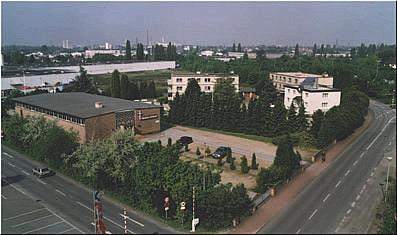 The photo shows the international Mission Center in Krefeld, Germany. To the left can be seen the church which seats 550 people in the main auditorium, and other 150 seats are on the balcony. There are the two missionary buildnings with the offices and dormitories for guests who participate at the special meetings on the first weekends every month and also the recently built print shop and publishing house. On the property is also enough parking place.
The dear Lord Who in His wisdom thought about all things has taken care in every way so that His eternal Word can go forth from here into all the world. Cassettes and literature are being sent out to over 130 countries free of charge. No one could have ever imagined the immenseness of the mission work.
The same responsibility the Apostle Paul had, Brother Frank has in his ministry. Just as at the beginning of the time of grace now at the end the whole counsel of God is being faithfully proclaimed. Brother Frank can as Paul could point to the day, the place, the hour when he received his commission through the mighty, all penetrating, commanding voice of the LORD Jesus.
Soon it will be 40 years wherein the ever-faithful LORD has confirmed the commission. The last call goes forth, »Behold, the Bridegroom cometh!«