"Jesus Christ, the same yesterday, and today, and forever" (Hebr. 13: 8)
William Marrion Branham
---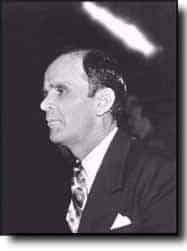 Supernatural light over the head of Rev. William Branham
(24.1.1950 Houston, Texas)
"And when the day of Pentecost was fully come, they were all with one accord in one place.
And suddenly there came a sound from heaven like a rushing mighty wind, and it filled all the house where they were sitting.
And there appeared unto them cloven tongues as of fire, and it sat upon each of them.
And they were all filled with the Holy Ghost, and began to speak with other tongues, as the Spirit gave them utterance." (Acts 2:1-4)
"And I saw like the color of amber, like the apperance of fire..." (Ezek. 1:27)
Printed Message Books
Original sermons of Brother Branham are available in printed form from Finland, too! There is now a purchase price of $1,00 per book (to enable us to keep 1965, 1964 and 1963 Messages continually in stock). To order, please contact Bro. Matti Honkanen:
VOICE OF GOD RECORDINGS
PL 1   02761 ESPOO
Phone: +358-9-855 8509     Fax: +358-9-855 8523
E-mail
Ask also cassettes! Now a complete set of 24 new tapes for $104.00!
Please note that Voice of God Recordings is discontinuing the automatic mailing of The Spoken Word books (from U.S.A.). Hereafter, all material will be by order.
Rev. William Branham's Messages on Compact Discs
Quote from the complimentary CD:
"Voice of God Recordings is pleased to announce that Rev. William Branham's Messages are now on compact discs. Presently there are 86 selected teaching Messages available. The recorded Messages from which the CD's are made has undergone an additional filtering process, to bring them up to audible standards not previously obtained, and are in the uncompressed form so that the quality will not be compromised. Production has begun on making all of Branham's Messages available in this format."
The Messages are priced at $7.00 each, regardless of how many discs are needed for that Message. Ask further information (and new sermons) from Voice Of God Recordings office in U.S.A. or in Finland (E-mail). Now also all 1964 & 1965 Messages on CDs!
William Branham MP3 Audio Library Now On-line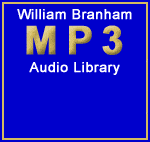 William Branham Audio Library On MP3 CDs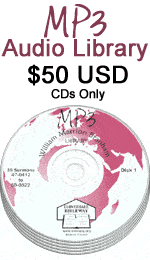 MP3 Price Reduction!
The Bibleway Audio Library of 1120 messages of Brother Branham in MP3 on 40 CD's are available now for only $50.00 US (shipping and postage not included)!
The vision of having a fully portable Message library is now reality! It is exciting to think that we can now supply anyone with a small portable MP3/CD Player and the complete library of 1,120 Messages in a small package. MP3 is a technology that allows large audio files to be compressed into smaller ones while maintaining high audio quality. Unlike Real Audio files which can only be played on computers and some compatible portable players, MP3 files can be played on portable CD players, as well as new home and car stereo systems that are MP3 capable.
Visit www.bibleway.org for more information
Message Software Package
THE MESSAGE 2001 VGR SOFTWARE PACKAGE now available from Voice of God Recordings (if you previously purchased the 1999 version, an upgrade of the software is available for 50$).
The software package is a reference tool for your computer whereby you can search the text of over 1100 Messages for specific words or phrases.
The $100 price includes all shipping charges for the Message CD-ROM Software Package world-wide.
Website: branham.org
Now also from The Holland Office and from The Finland Office!
Voice of God Recordings
European Office
P.O. Box 78
9520 AB Nieuw-Buinen
NETHERLANDS
Finland Office:
VOICE OF GOD RECORDINGS
PL 1   02761 ESPOO
Phone: (09) 855 8509     Fax: (09) 855 8523
E-mail
---